A-Rimo!
Remote finds for you the best platforms in the world and is proud to present Rimo, the perfect platform for performances, Happy Hour, round tables and more
Remo is a platform where people from anywhere in the world that has internet can enjoy human interactions and activities in a virtual environment. We strive to help you produce your encounters and events almost without compromising the human dimension. It is a platform that gets the same feeling of attending a networking event, classroom, innovative workshop or family reunion, through proper accessibility to your laptop or phone.
​
Getting started with Rimo
We love Rimo, and we hope you will too. We will guide you through every step of the way so you can understand the platform and use it for any occasion.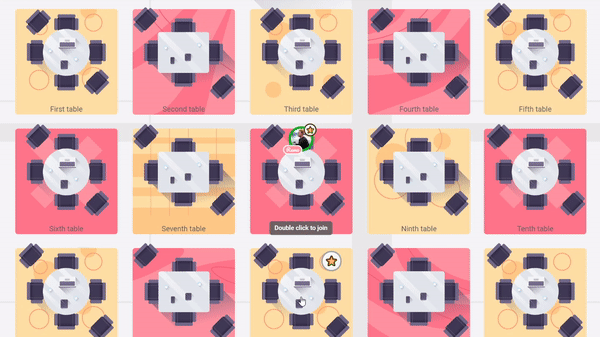 The building blocks of Rimo:
perspective
Rimo's display brings a two - dimensional worldview, which means that objects and visuals come to life. When people enter an event, they will start by having a small circle with their picture or the initials of their name. It will serve as the marker of the person, so that while everyone is walking around during the event, you will still know who is who according to that marker. People attending the event will look down on the compound from a bird's eye view so you can see the entire area and navigate yourself at the event.
Open a table
Uniquely, cheated Allows people to experience table calls while they are virtual. Each floor has 19 tables - 15 in the middle and 2 on each side - with 6 seats in each table. The table model allows for more intimate and focused conversations in a time defined as social time and provides plenty of space for all participants. If you have a hundred people or more, the lift platform automatically adds more floors so that all those present can sit at the table and enjoy the event. When you enter, all you have to do is press on a table and start talking! To move to another table and call, just double-click on the table you want to move to, it's that simple!
As a host, you can adjust the name of each table to guide the conversations. For example, if I am planning a company workshop, I can give each table something different like "human resources" or "growth team" so that the conversations can take place within each team. The tables allow for smaller conversations and still be part of the larger event.
Show Time
Lights! Camera! action! Rimo is great for presentations. Just like a face-to-face conference, whenever you want your attention to return to the stage, click "Show" and it will switch to single-screen mode. Then, all present can see and hear your presentation. You can also get more people - called "speakers" - to talk and present together.
Together remotely
Communicating in a virtual event has never been easier! In addition to the live video communication on the table and in presentation mode, Rimo Offers a number of additional means to help your participants communicate. Didn't you always want to be able to get the strong sense of collaboration and innovation when your team sketches ideas on the board? Well, for that there is our "board mode", which allows you to sketch, record, upload videos, notes and more. Familiar with the frustration of multiple conversations in chat groups? Rimo offers built-in group chats for the whole event, for each table and personal messages. Have you ever had to use a speaker to get the attention of your event? No need to shout because you can send a message in bulk, which allows the host to broadcast messages that immediately appear on the screens of all present. The best part? All of these media are on one central, convenient and highly personal platform.
© 2020 By Merachok team Proudly created with Wix.com
Your unique look & elephant
Make the platform lift Yours and unique to your event. Customize the look and feel of the event map to reveal your brand at the event, add sponsorships and ads to generate revenue, and add a video on the sides of the platform as a final touch. You can even customize the domain name of your event link. The ways to customize are almost limitless.
Want to try Rimo?
To register for a trial period
Sounds like it's it Right?
For your next event with Rimo, just click here: